The biggest news story in April was the Iranian authorities' filtering of the audio based discussion app Clubhouse. Clubhouse rose to popularity in the country as rooms were created to discuss a range of social, political and economic issues ahead of June's presidential elections. The surge of users joining the app did not go unnoticed by Iranian authorities as rooms quickly attracted a number of high-profile political activists and political figures, including members of President Hassan Rouhani's Cabinet, and prospective presidential candidates. 
In the wake of the app's surging popularity, and following a series of highly visible debates in which state elites came under a barrage of criticism from journalists, dissidents, and civil society representatives, authorities ultimately decided that the app should be filtered. Clubhouse was blocked on April 9 across Hamrah-e-Aval (MCI), Irancell, and Telecommunication Company of Iran (TCI). To date, none of the authorities have accepted responsibility for the filtering incident. This is particularly curious in light of the fact that when apps or high-profile items of content have previously been filtered, it seemed almost as if there was a competition between the Judiciary, the Committee to Determine Instances of Criminal Content (CDICC) and sometimes even the Rouhani administration itself to take credit for blocking.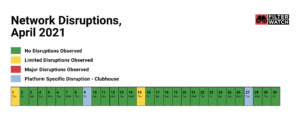 As a methodological note, the Oracle Internet Intelligence Map (OIM) – the tool we previously used to identify service disruptions at the level of autonomous systems (ASes) – has been discontinued. The Filterwatch team will be employing data from the Center for Applied Internet Data Analysis (CAIDA)'s tool for Internet Outage Detection and Analysis (IODA).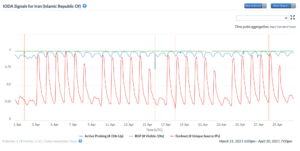 Overall Internet Connectivity – April 1 – April 30 
April 1 – Regional internet disruptions across multiple provinces
According to IODA data, users experienced internet disruptions in the provinces of Qazvin, West Azerbaijan, Khuzestan, Ardebil, Kurdistan, Yazd, and Chahar Mahal and Bakhtiari. Limited information is available about the origin of these disruptions.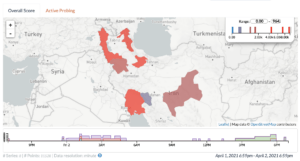 April 9 – Clubhouse blocked after a surge in popularity
The filtering of Clubhouse was the most significant filtering-related development in April. Clubhouse surged in popularity after journalists created rooms to discuss economic, social and political issues ahead of the June 2021 presidential election. These Clubhouse rooms played host to a number of charged discussions between high-profile political activists, Rouhani administration cabinet members – including the ICT Minister Mohammad- Javad Azari Jahromi – and other state elites. Quickly, authorities' tolerance for the platform ran out, and Clubhouse was blocked across MCI, Irancell and TCI on April 9 2021.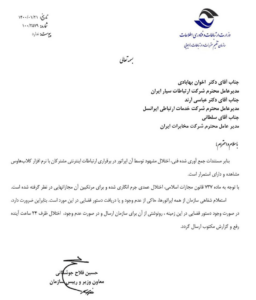 No one state institution claimed responsibility for the decision. This was particularly interesting given that in previous blocking incidents the Judiciary and CDICC frequently competed to take credit (sometimes alongside the ICT Ministry). Instead, the ICT Ministry denied the app was blocked before, the Cabinet issued a resolution to the Communications Regulatory Authority (CRA) which allowed it to issue fines to the operators if the filtering persisted for over a week in an attempt to distance themselves from the incident. 
On April 9, an informed source told Filterwatch that the Herasat security offices at MCI, Irancell, and TCI pushed for blocking the app at the DNS level.
On April 13 Entekhab news website, which is close to the family of Iran's prominent politician and former president Akbar Hashemi Rafsanjani, held a meeting with his daughter, Faezeh Hashemi. The meeting was attended in record breaking numbers, with over 12,000 people attending across a number of different rooms, demonstrating that the filtering of Clubhouse had done little to put a break on the platform's popularity.
On April 24, the blocking of Clubhouse was confirmed by the CRA, however, on May 1 Iran's Administrative Court  issued an interim order preventing the CRA to fine operators for disrupting Clubhouse.
April 15 – Further regional disruptions 
According to IODA data, internet users experienced disruptions in the provinces of Sistan and Baluchestan, West Azerbaijan, Qom, Semnan, Kohgiluyeh and Boyer Ahmad, East Azerbaijan, Zanjan, Markazi, Kurdistan and Chahar Mahal and Bakhtiari. Limited information is available about the origin of these disruptions.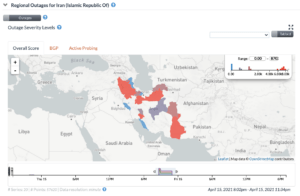 April 27 – Heavy disruptions to Clubhouse on AsiaTech, ParsOnline

On April 27, Filterwatch observed heavy disruptions to Clubhouse, amounting to a packet loss rate of 75% on two major ISPs: AsiaTech and ParsOnline. 
April 28 – Governor for Fanouj in Sistan and Baluchestan Explains Recent Internet Disruptions 
Moshtagh-Ahmad Rigi, Governor for the city of Fanouj in Sistan and Baluchestan said that most of the internet outages in his province are "intentional" and "caused by people intentionally severing fiber optic cables with unknown motives". Rigi recently made headlines due to a number of internet outages in his hometown, which have resulted in students having to travel for internet access. He added that participation in online classes in the city will remain at low levels until the infrastructure problems are completely resolved.
Sistan and Baluchestan province has the lowest internet penetration rates in Iran and regularly suffers internet disruptions and internet shutdowns, especially during protests and politically sensitive periods.